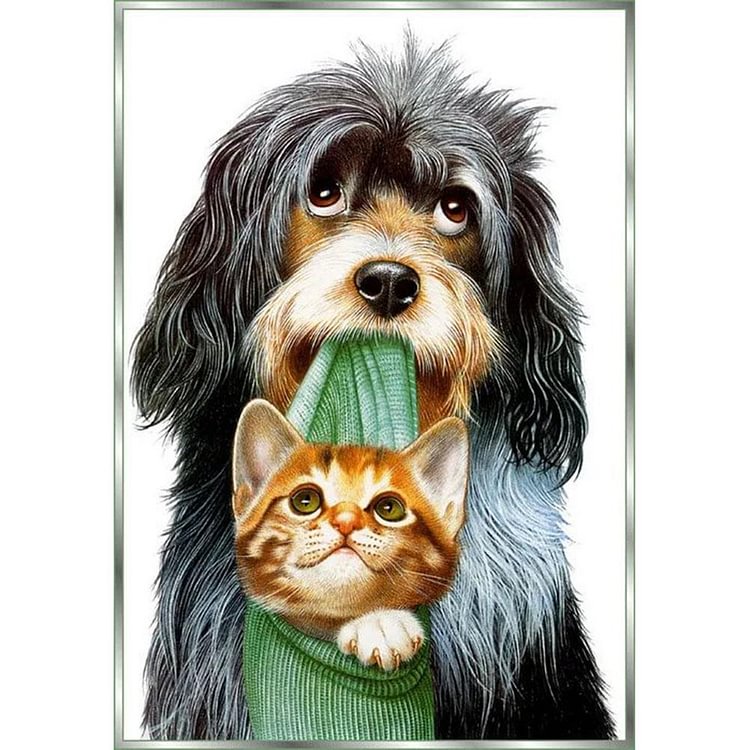 Features:
DIY painting, originality, unique luster of painting and resin sequins is the most popular DIY accessories
Wealth and good luck home furnishing decorative painting
Perfect decoration your living room or bedroom to match different decoration styles
Description:
Material: rhinestone + canvas
Item type: 5D diamond painting
Pattern: cat and dog
Color: as shown
Canvas size: Approx. 40x30cm/15.7x11.8in
Spot drill size: Approx. 34x24cm/13.4x9.45in
Space: living room/bedroom/classroom/entrance
Notice: we sell the diamond painting semi-finished product, not including the frame!
DIY Diamond painting production steps:
1. Open the box and check the diamond draw special tools.
2. View the resin diamond color and arranged order coding.
3. Uncover drawing above, you will see a lot of symbols corresponding to the color coding.
4. According to the corresponding color, inlaid diamonds on the corresponding resin.
5. Suggested that one type of the resin and diamond set, that will complete faster.
6. In order to create a perfect diamond painting, drawings put together in one place, and every symbols do not have to stay stuck diamonds.
7. To cut a good figure, hold drawings together and save. And then array and mount on the plane of the material above.
8. Splices need flat against the neat, do not have cracks.
9. The rest gap inlaid corresponding diamonds symbols.

DIY diamond painting precautions:
1. Refer to the previous operation steps
2. If you don\'t know what color to use, refer to the color chart
3. The resin diamond pattern in the assembly must use point cut line and trim to ensure overall effect

Note:
1. This is DIY diamond painting, not finished, and you need to finish it yourself. All products are manual measurement, please allow 1-2cm deviation.
2. Because the light is different from the screen, the color of the item may be slightly different from the picture. Please understand.
Package Content:
1 X Cat and Dog Diamond Painting(Rhinestone Need to be Pasted)
1 X Diamond Drawing Tool(no Frame)
FAQs
We are a company from China. Shipping time usually takes 10-18 business days. If a package does not receive all products. Please rest assured that we will disassemble and ship for you, because the logistics company requires that electronic products and diamond painting products need to be sent separately. If you have any other doubts. Please contact us and send the order number and we will confirm it for you.
Our advice for beginners is to start with a smaller canvas to practice with (30cm/12in)
Round: There will be tiny gaps between the diamonds, usually with the canvas pattern filling the space.
Square: Fit more snugly together on the canvas, however will take a bit more precision and time to get just right.
If there are not enough diamonds, please contact our email: [email protected]
Remember to send us the order number, picture, and missing DMC number. We will arrange the warehouse to ship to you, and the delivery time is estimated to be about 15-20 days. Because the color needs to be rearranged to make the missing diamond.
You can find "Order Tracking" in our menu bar
Enter the email address you placed the order or the name of the order, you can check the information of your order and logistics.
https://www.gbfke.com/pages/order-tracking?