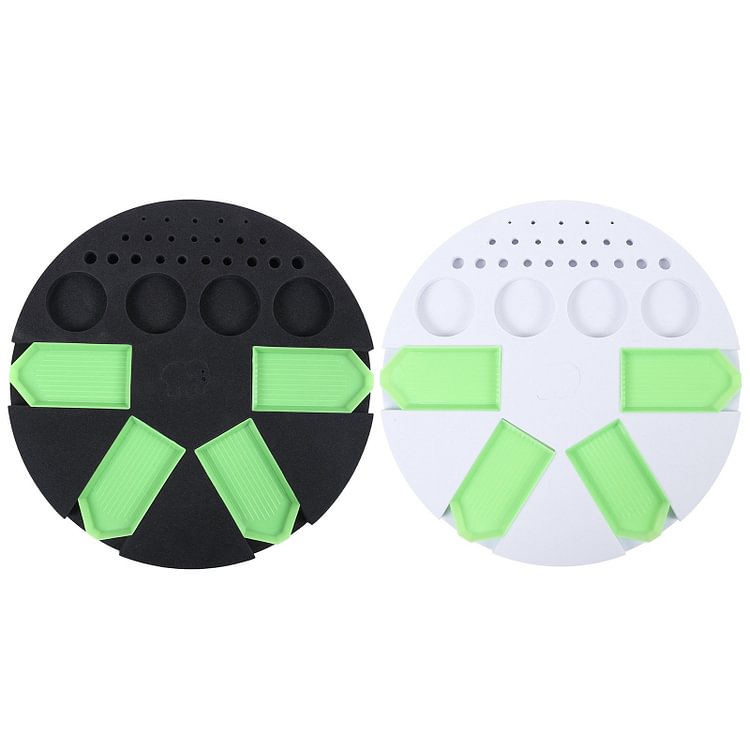 Durable Dot Drill Tray Diamond Painting Point Drill Tool Plastic Storage Box Point Drilling Pen Holder Dotting Tools Kit Container
Specification:
Material: Plastic
Color: Black/White
Size: diameter 28cm / 11.0in, elephant 3.5*2.6cm / 1.4*1.0in(length*width), rectangular grid 9*4.6cm / 3.5*1.8in(length*width), Green plate 8.9*4.8cm / 3.5*1.9in(length*width), 4pcs large circular holes diameter 4.5cm / 1.8in, 22pcs small circular holes 0.2cm(2pcs), 0.3(3pcs), 0.4(3pcs), 0.5(4pcs), 0.6(4pcs), 0.7(2pcs), 0.8(2pcs), 1cm(2pcs)
Weight: 66g
Product function: to receive drilling tray, point drilling pen, etc
Accessories: 1pc storage box + 4pcs green dot drill tray

Pay attention:
The tray with 4pcs green plates, two eyes of elephants can be taken out or the whole elephant can be taken out.
The round hole can be inserted with a drilling pen, and the grooves can be filled with drill particles.

Note:
Due to the different monitor and light effect, the actual color of the item might be slightly different from the color showed on the pictures. Thank you!
Please allow 1-3mm measuring deviation due to manual measurement.
Included:
1 X Storage Box
4 X Green Dot Drill Tray
FAQs
We are a company from China. Shipping time usually takes 10-18 business days. If a package does not receive all products. Please rest assured that we will disassemble and ship for you, because the logistics company requires that electronic products and diamond painting products need to be sent separately. If you have any other doubts. Please contact us and send the order number and we will confirm it for you.
Our advice for beginners is to start with a smaller canvas to practice with (30cm/12in)
Round: There will be tiny gaps between the diamonds, usually with the canvas pattern filling the space.
Square: Fit more snugly together on the canvas, however will take a bit more precision and time to get just right.
If there are not enough diamonds, please contact our email: [email protected]
Remember to send us the order number, picture, and missing DMC number. We will arrange the warehouse to ship to you, and the delivery time is estimated to be about 15-20 days. Because the color needs to be rearranged to make the missing diamond.
You can find "Order Tracking" in our menu bar
Enter the email address you placed the order or the name of the order, you can check the information of your order and logistics.
https://www.gbfke.com/pages/order-tracking?