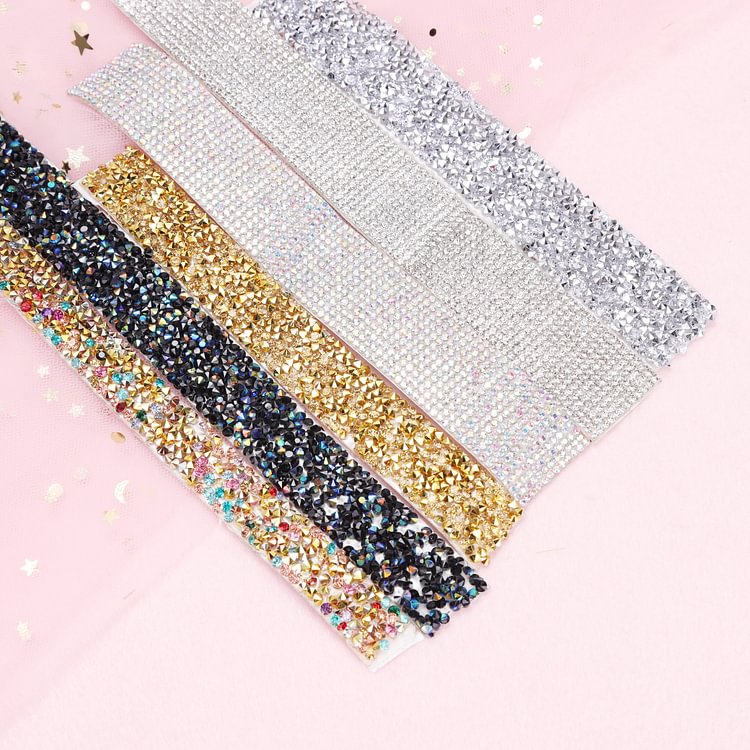 Product:
Crystal ribbon strip
Size:
1m
Weight:
about 70g
Package:
PE bag
Beautiful and practical --- Made of high quality rhinestone material, harmless and safe. The back side is hot adhesive,can be ironed,hand sewn and glued. Suitable for wedding, birthday or other special events.
FREE CUT --- According to your needs, this roll of rhinestone ribbon can be cut to any length or shape and can be easily attached to various surfaces. 6 colors for your choice
CRAFT ACCESSORIES --- Add some sparkle and "bling" to handmade accessories, such as Diamond Painting, personalized Christmas ornaments, cake decorations, hair accessories and clothing for girls.
Suggest --- 30*40cm diamond painting generally needs one roll of 1m, More than 30*40 size, usually need more
Reliable quality, self-adhesive crystal rhinestone ribbon is made of environmentally friendly glass rhinestones, harmless to human body. Diamond ribbon stickers use high-temperature hot melt technology, high temperature resistance. It will not fall off after long time pasting on smooth surface.

Shiny color, the rhinestone ribbon stickers come with shiny stones, they will shine brighter in the light. The glitter effect will make your crafts more attractive, delicate and beautiful. The 2mm rhinestones make it more classic and three-dimensional, adding a touch of luxury to your DIY creations.

Easy to use, with the hot melt adhesive on the back of the rhinestone, you can easily peel off the paper and wrap the shiny rhinestone diamond mesh ribbon around the surface of the object. No additional glue is required. There is enough space between the rhinestone rows so you can cut the stickers into smaller sections as you see fit.

Wide range of application, this rhinestone mesh ribbon roll is perfect for crafts for various occasions. Such as Diamond Painting, Halloween/Christmas gift wrapping, wedding decoration, shoes, cell phone, lipstick, perfume, cake decoration, cups and various DIY projects.


Include,1 Roll 1m DIY Crystal ribbon strip